Product Management
DOTTED LINE: what do Project Managers do at Speck
In the first episode of our DOTTED LINE series in which we're taking you deep inside Speck, we hopped on a call with Alessandra and Kaja from our Project Management team.
Scroll on down to check out the full interview and learn more about the squad, their work and company projects, as well as some future plans for the Project Management team.
Let's go straight to the core. When it comes to Speck's Project Management team — how is it structured?
KAJA: There are currently 5 people in the team, and it's a mix of both project and product managers. We have it structured like that because of the current needs of our clients who at certain times need more project management, at others more product management, but often a bit of both at the same time.
Although we all are members of dedicated product teams, we made a practice to meet every two weeks as a way of keeping everyone in the loop about the progress of all projects, to share some new insights that we got which could benefit the entire project team and to discuss plans for improving the team
Aless, what about you? What do you see as some of the best aspects of Speck's Project Management team?
ALESSANDRA: I love the fact that we are a compact, efficient and highly connected team. We have those meetings every two weeks, and we go through all of the topics that interest us — whether it's work or non-work related. Sometimes we discuss specific projects, sometimes new project/product management trends, sometimes it's an education about a certain topic, sometimes it's a completely random thing… but every time we help each other solve some problems, become closer as a team and have a bit of fun.
And we're completely open with each other, which helps us build a stronger team culture — which is extremely important, especially in a smaller team like ours.
Tell me more about the types of projects that you're currently working on?
KAJA: If we're talking about specific platforms, we're specialized in building web and mobile applications. And if we're talking about specific types of clients, there's a combination.
On one hand, we work with a number of larger corporations which already have their own core digital platforms and products, but want to implement some new functionalities into them or optimize a part of their business or create some other type of improvement through the use of digital technologies. The main benefit of this type of partnership is that we're providing the corporation with a startup-like mindset which includes a high level of flexibility, a high level of innovation and also product-focused thinking.
And on the other hand, we also work with startups which are looking to launch a completely new product onto the market. The benefit here lies in de-risking the process of building a new product and launching a new company because we can guide new startup owners through our already established and validated processes.
Those would be the two main categories of projects that we usually work on.
What would you say that our Project Management team is great at, and what would be some of the aspects that we need to improve?
ALESSANDRA: When it comes to aspects that we are extremely strong in, I would have to single out communication because we put a strong emphasis on keeping everyone in the loop at all times — this includes the client, our production teams, other Project Managers and also members of other teams within Speck that we work closely with.
Another thing I would point out is the onboarding process when it comes to welcoming new people onto the project. We don't like the trial by fire approach, but focus on the structured and detailed way of explaining core elements of the project to new team members. Yeah, this approach means that the new person won't be operational for the first few days, but it's proven to be a much better approach when we look at long-term results.
And when it comes to things that we still need to work on… that could be creating a unified way to monitor all of the projects. For example, a single tool that we could use to have an overview of everything.
What does your cooperation with project teams and clients look like?
KAJA: Project Managers are our main points of contact and links between clients and production teams, so they are in constant communication with both sides, but the specifics of that collaboration really depend on the dynamics of the project.
On some projects, there are daily meetings with both sides, on others, only weekly reports. Whatever approach we take on a specific project, the most important thing is to ensure that everything is optimally organized and that every person involved in the project gets the right info at the right time.
If I were to give you an overview of the most common approach… with production teams we usually have daily standups with the entire team and we also conduct 1-on-1s when a specific situation demands it. As Project Managers, we are the guides, the supporters and the protectors of our teams.
When it comes to collaborating with the clients, most of the time we conduct discovery workshops at the start of the project, and once that starts rolling, we usually set up a defined reporting routine so they know exactly how the project is coming along.
And when it comes to cooperation with other departments at Speck?
KAJA: There is continuous cooperation between our Project Managers and Speck's Operations department which is comprised of the management team, sales, finances, human resources and marketing. We work with them on a regular basis throughout the project lifecycle.
We collaborate with the sales team most often, because both sides are in communication with clients. But we also work with them when it comes to new acquisitions — defining proposals, the scope of projects and estimates.
When it comes to expanding the production teams, we work closely with the human resources team, and of course, we keep the finance team constantly in the loop so they can keep track of the invoices and any changes in project scope.
In addition to that, the entire Project Management team meets with the Operations department in our office once every two weeks — we take that one day to work together and go through all of the strategic aspects.
We are currently looking for three Project Managers — one will join the Peterson's team, the other will be working on HubDialer and the third one will be for our internal projects. Can you tell me a bit about each of those?
KAJA: HubDialer is a platform that is used for conducting activities during political and other types of campaigns in the US. It enables volunteers to make large numbers of calls on behalf of various organizations, such as political parties. It is an extremely robust platform that needs to handle a giant amount of traffic on a daily basis.
For this project, we're looking for a PM who can be in continuous communication with the founders and management of HubDialer and who is skilled enough to propose potential next steps for this product's future development — while at the same time conducting a more standard set of project management activities, such as guiding the development of new features, managing the team and organizing tasks.
As for Petersons's, they are one of the largest test prep service providers in the US. This project is specific when it comes to PM work, because Project Managers working on Peterson's have an overview of multiple sub-projects that are being built at the same time — from their mobile app to a web platform and a variety of other digital products. This brings a lot of dynamics into the mix because Project Managers need to cooperate with multiple tech team who develop different products.
And the third Project Manager we're looking to hire would be focused on handling a variety of smaller projects that we have in the pipeline and also assisting us with managing and coordinating some internal activities that we started at Speck.
Aless, you manage multiple projects. Tell me a little bit more about it — how do you keep track of everything?
ALESSANDRA: Well, I don't find it especially challenging, you just need to have a method of organizing things that suits you the best. For example, I like to start my day early, before other teams start working.
I'm most productive in the early morning, and starting before others gives me an additional benefit of complete focus without any interruptions that enables me to map out and organize all of the important tasks that need to be done during the day. So yeah, that's more or less it — if you go through a detailed onboarding when you enter the project and can find an organizational method that works for you, managing multiple projects at the same time is really not an issue.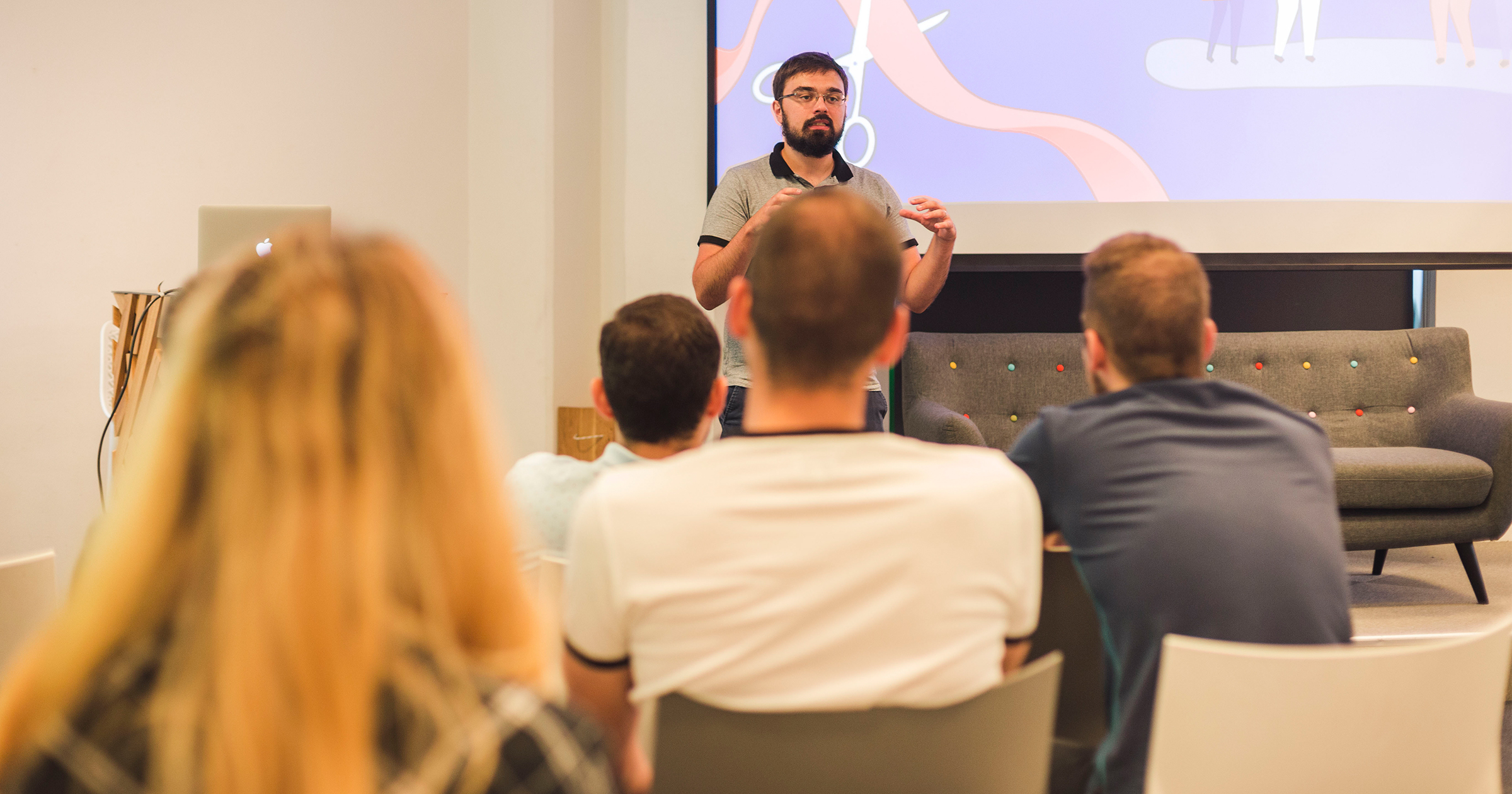 Any additional pieces of advice?
ALESSANDRA: Prioritize, prioritize, prioritize. I can't stress that enough. When you're managing multiple projects, it's always great to know what is on the top of the list. And not just knowing what is the number 1 priority within a specific project, but also which projects are more important than others.
As a Project Manager, there'll be times when available resources will be thin and you'll have put one project over another, so you need to be aware of the opportunities and the risks.
Let's talk a bit about PM frameworks and methodologies. What are you using — scrum, waterfall?
KAJA: This also depends heavily on the type of the project and the stage that a specific project is in. We usually follow scrum and waterfall on our projects, but that often morphs into some sort of a mashup which proves to be more efficient either due to our internal setup or our client's business dynamics.
I mean… I don't see this flexibility as something negative. Enforcing a specific methodology just for the sake of being able to say that we follow that specific methodology can sometimes make our work less effective. I'd rather be flexible and modify the approach on-the-go based on the needs of our clients, their business goals, the project's overall status and our team's setup.
Lately, we've been hiring quite a bit of both Project and Product Managers here at Speck. What's the deal with that?
KAJA: Speck is growing as a company, and that means we have more active projects, more projects in the pipeline and more people who can work on them. To ensure that our output stays on the highest possible level of quality, we need more people within the Project Management team who can handle those projects and people.
As we as a collective want to grow, our objective is to increase the quality, the number and the scale of projects and products that we can work on, but without overloading the people who work on them. Focus is key when it comes to building digital products — and that is true for both the production teams as well as Project Managers.
ALESSANDRA: Exactly, as Kaja said, the goal is to ensure that our people don't get overloaded with work. The ideal is to create a situation where our project managers can have top-level output — where they have enough time to manage the projects, manage the teams and continuously improve through their work, instead of just jumping from one task to another and constantly having to play catch-up.
Project Managers need to be looking at a big picture — how to build a stronger relationship with the client, what is the next step for the project they're working on, what improvements can they implement to make the processes better and more efficient, how to improve the production teams. All of those activities take time… and this expansion of the team makes it possible.
What are some future plans for the team?
KAJA: Lately, we have started making a slightly stronger distinction between project and product management within the team. We now have people who, as some would say for Product Managers, act like mini-CEOs on products they manage and we have specialists who focus exclusively on Project Management aspects, such as team coordination and organization.
However, I think that it is very difficult to completely separate the two, at least in this current state that Speck is in. And that is primarily because of the profile of our current clients. You see, most of them do not need a full-time Project and a Product Manager, but they need a person who can be a little mix of both with a slightly stronger Product focus at one stage of production and a slightly stronger Project focus during another stage.
So yeah, as I mentioned, it is a bit difficult to completely separate those roles at the moment, but as Speck continues growing as a company and as our partnerships with clients get deeper, there will most certainly come a time when we will be able to separate the two.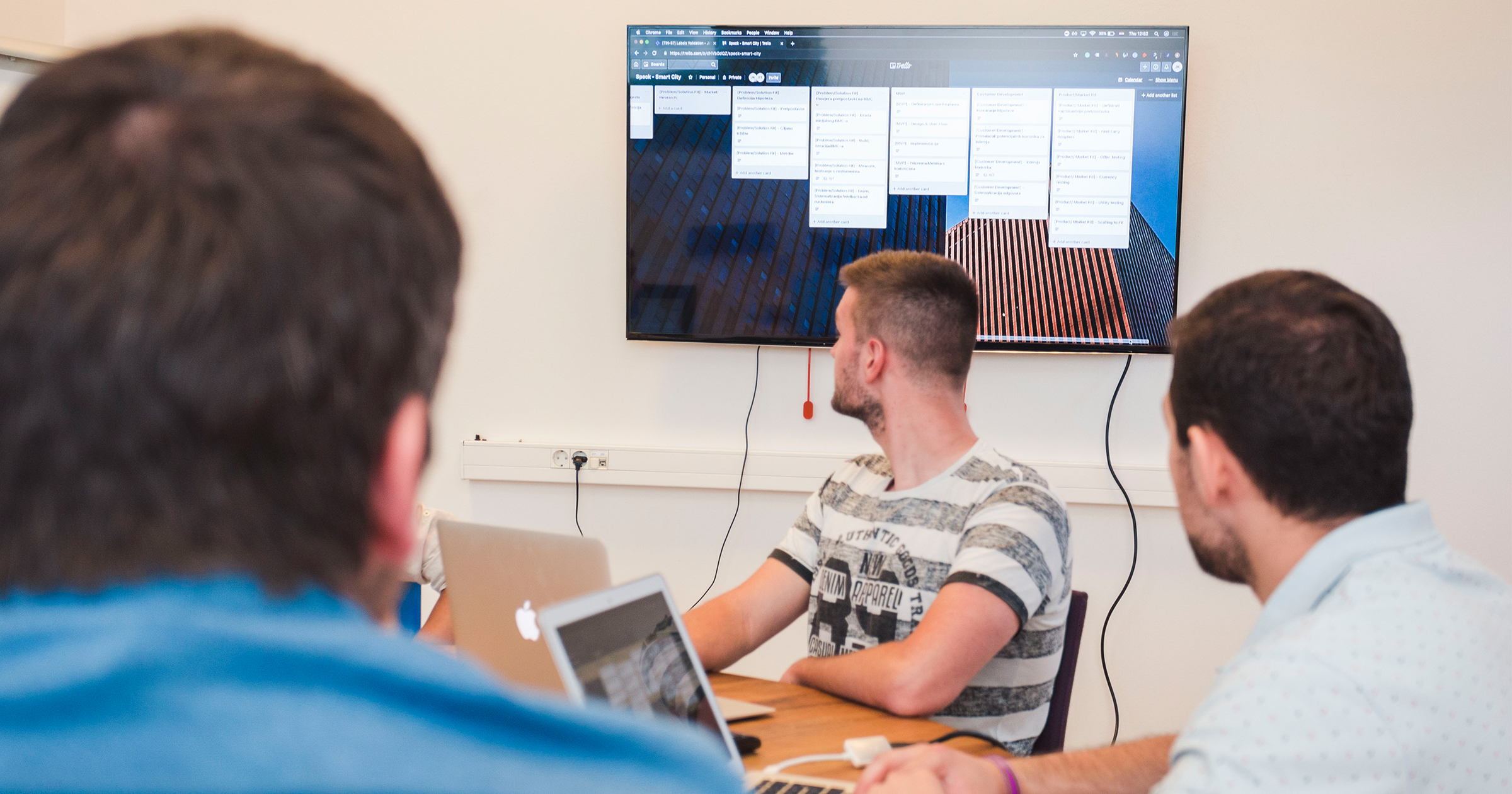 When you think about people who would fit perfectly into Speck and our Project Management team — what kind of skills and mindset are we looking for?
KAJA: We put a lot of emphasis on company values and the cultural fit. Here at Speck, it is extremely important that new team members can fit well into the existing team. And that is even more pronounced within the Project Management department because, as I said before, all of the other teams look to us for support, so every new person who joins us needs to have a high level of empathy, know how to listen to people and how to motivate them.
Being a Project Manager is an interesting role, because you're a motivator and a mentor and a guide and an assistant to production teams… so we kind of juggle a couple of roles at the same time. That's why this empathy that I mentioned is really helpful — it helps you recognize the needs of others, even when they are not clearly visible to everybody else.
In addition to that, we are looking for a person who can transparently give and receive feedback — both the good things and the bad. This is extremely important because feedback helps us all improve much faster, and as we all focused on getting better at both giving and receiving feedback, it proved to be one of the best tools for making us all grow. Now that I mentioned it, this growth aspect is also something we value a lot and invest a lot in — we love people who have the drive to continuously educate themselves and grow as professionals.
Of course, as we're talking about a Project Manager position, you also need to have a high level of flexibility when it comes to your approach and mindset as you'll be working with different kinds of people and tackle various challenges on the projects you'll manage. But I'd say that comes in as a no-brainer for anyone in this profession.
Aless, what would you single out?
ALESSANDRA: As Kaja was talking about all of this, I thought to myself what would be something extra. And I agree with everything she said, but there is one additional aspect that I would mention — and that's being resourceful and willing to dig deeper.
I know some people who look at Project Managers as nothing but organizers whose only job is to transfer messages to clients. Not going into or even understanding the technical aspects of projects they're working on — they see Project Managers as nothing more than messengers. But that's not how things work, and that's especially not how things work here at Speck.
We are looking for people who are curious and who want to understand the technical elements and the design elements and the business side of projects because that will enable them to be more efficient in all other aspects of their work. And ultimately, understanding all those parts will also help them with that communication part of Project Management.
Now that you mentioned this. Would you say that it is important for a Project Manager to have a strong technical background — to be able to write code or to understand the specifics of design?
ALESSANDRA: Not at that operational level. As a Project Manager, you don't need to be able to write code, but in order to manage the team in a way that will be beneficial both to them and to the client, you need to understand the basic concepts, the terminology and what affects what in terms of technology.
You need to be able to discuss and understand certain aspects of the project whether you're talking about the business side of things with the clients, or going through the technical specs with the production teams.
KAJA: I completely agree. As Project Managers, we will never be asked to write code, but we need to be able to translate a client's business need into a technical solution, and present it to developers. In addition to that, we are also involved in making project estimates — of course, we do that in cooperation with the production teams, but we need to know what we're talking about, so that's why it's crucial that we continuously educate ourselves on the core concepts of building web and mobile apps.
Last question. What would you say to people who are still on the fence about joining Speck's Project Management team — why should they get their CVs ready and apply?
KAJA: I've been a member of the Speck team for more than 2 years now, and I can say that the company really helped me get a clear picture of what I want my career to look like. It really is a place where a person can fulfil their long-term personal and professional needs and wants.
If you become a member of Speck, you'll get to learn a lot and put your career in the fast lane to success. And that is even more true for members of the Project Management department, as this position will enable you to grow your network and work with a wide variety of clients that you probably wouldn't have a chance to get in touch with otherwise — from innovative startup owners to managers of large corporations… you'll get to work and build something new and exciting with all of them.
And in addition to all of that, you'll also have clear boundaries between your work life and your personal life. That is something we don't compromise on. There's no crunch time — we want all of our people to have time just for themselves. Time when you can work on your projects, hang out with friends and family or do whatever you want to do… without pings or emails or Slack notifications or any other work-related distractions.
ALESSANDRA: Here's a quick story that really describes what Speck is all about. A few months ago, I had a chat with Tomislav, our CEO, and I told him that I passed my tests and got a PMP certificate. And he said — okay, what type of projects do you want to work on going forward and how can we make it happen.
This little thing showed me the mindset of the team and the management here at Speck. Let's try to give our people the opportunity to work on the projects they want, projects that will help them grow, projects that interest them and that'll enable them to do their best work. And that is not something you'll find in a lot of other companies.
Speck as a company is still growing, there are lots of opportunities to define certain aspects, change strategies, reorganize processes… and because of that, every single member of the team has the chance to make an impact and leave their mark. If you want to implement something new, if you have a great idea, if you want to do something different — you can, and you can do it quite easily.
_____
And that is all for this edition of the DOTTED LINE.
If you like what you read here and you're interested in joining our team, hop over to our careers page and send us your application!